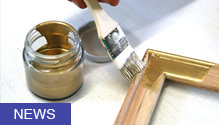 WATER-BASED METALLIC PIGMENTS


Ecological and non-toxic metal pastes and varnishes, a brand new range unique in its field developed by Masserini to substitute the solvent based metal pigments. Download pdf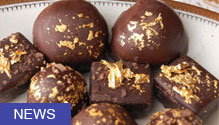 EDIBLE GOLD


The new range in Masserini's genuine 24 carats gold leaf: non-toxic and safe, the best choice of chefs and gourmets to make their dishes more precious and gorgeous.&nbsp Download pdf
BASECOATS, GRAINFILLER AND SEALERS

Any of them of our own formulation and production based on inert fillers and synthetic binders, suitable for the various kinds of surface.

Download pdf
GOLD LEAF SIZES


Gilding size ( glues) formulated and produced in our own laboratories for a perfect application of the gold leaf to any type of material.
Download pdf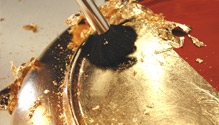 METAL LEAF


Imitation gold, imitation silver and pure copper leaf, obtained by the ancient traditional process of hammer- beating. Selected by expert hands in various sizes and for many usages. Download pdf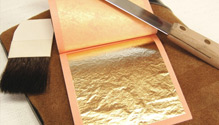 PRECIOUS METALS


Pure gold and pure silver in various carats and shades. Suitable for various purposes: from decoration to restoration and jewellery , including also edible gold.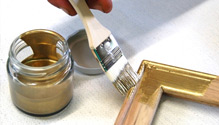 METAL PIGMENTS


Metal pigments oil-based and now water-based too, to create gold and silver varnishes or waxes and pastes for re-touching
Download pdf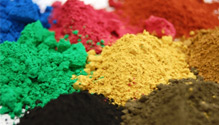 NATURAL PIGMENTS AND POWDER DYES


A wide selection of natural pigments, powder dyes for artists and decorators offered for the specialists of the decoration.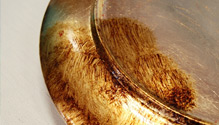 AGEING ACCESSORIES, PATINAS AND MECCAS


The traditional finishers in the gilding field re-formulated and proudly produced in our own laboratory to impart charming antique or new effects to your gilding projects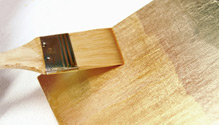 FINISH VARNISHES


The best protective for the gold leaf from scratches, oxidization and any agent that can cause variations in the shade of gold and silver. Formulated and produced in our laboratory.
GILDING TOOLS AND ACCESSORIES


All that we have studied and made to give a substantial help to the user to fulfill his artistic project.
RESTORATION AND ART & CRAFT ACCESSORIES


Natural glues and waxes coming from all over the world available for the specialists of the artistic field.